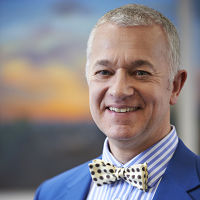 ESBA Chair Interview
Stuart Nicholson
Alumnus of the Universities of Oxford, Cambridge and Edinburgh
Why Albania?
Albania is a fascinating country.  Under its dictatorship, Albania was famous in Britain because it was such a closed country – we knew less about Albania than we did about North Korea. When I first visited Tirana, I was surprised to find a modern and forward-thinking capital city. I was also impressed by the country's thirst for democracy and was struck by the determination of its young people for a democratic, fair and corruption-free country.  They wanted an international education but could not afford the very high fees for UK boarding schools and I wanted to try and establish a scholarship programme to help the bright young Albanians I met afford it.
Last year I had the opportunity to approach several boarding schools in the UK and ask if they would be willing to provide Scholarships that would cover half the fees at their schools. I was delighted by their enthusiasm for this project.
I am now looking to find students of very high academic ability whose families might be able to afford these lower fees.
What are the things to consider before registering for this competition?
This competition is designed to find students of very high academic ability and who seek to win a place at a British boarding school.   Successful candidates will be working in English with native-speaking British students. 
As the scholarships offered by the schools will cover more than half the cost of full school fees, the scholarships are offered on merit to those who are very high ability. The competition is designed to identify students who will be able to get top grades who will have the ambition to go and study at some of the UK's finest universities.
So, do you love learning?  Is it exciting and enjoyable?  Is your English really good?  Are you one of the top students in your school and would you love to study in the UK?
What's the best/ideal age to start studies abroad?
Although the best age at which to come and study in the UK is as early as possible because of the requirement to become fluent in English, in practice it is a balance of many factors – the student's wishes and maturity, the family's willingness to let their child go overseas for such a long time, the ability and ambition of the student and their fluency in English.
Most importantly for the Englanders scholarships, I have met students age 15 or 16 from Albania whose English is already very strong and they would be able to learn alongside native-speaking British students.  This is the critical age for the preparation which will be necessary to achieve entry to a top UK university at age 18. 
There may be one or two places available for students who are not able to start until age 17.  So we will be interested to meet very high ability students who will be age between 15 and 17 on 1 September 2020.
What are some typical features of boarding schools in the UK?
British boarding schools have a global reputation for the quality of their provision.  Teaching is recognised as being amongst the best in the world, with very small class sizes and with the opportunity not just learn what is in the curriculum.  These expert teachers help students go beyond the curriculum.  If you hope for a place at the very best universities, the opportunity to learn in greater depth is a real advantage.  
The schools are famous not just for academic reasons, as the schools are also extremely good at helping students develop their own moral character, personal and communication skills, as well as a sense of integrity and social values.  
Boarding schools also have very good facilities, not just in the classrooms, but also for sport, dramatic and creative studies, as well as the usual academic subjects.  So, as well as educating world leaders, inventors, and scientists, British boarding schools produce Oscar winners and Olympic gold medallists. 
How were the particular schools selected?
I chose schools that are known personally to me and where I know the head teachers. These are schools where I know the quality of the provision is excellent – the highest standards of teaching, with very good results for very bright students, and a supportive approach that helps students develop in the best possible ways. All of this will enable students to achieve their ambitions at schools that support individuals, giving them the best opportunity to develop their talents to the full.
What are the unique characteristics in terms of subject/testing/learning for the British Education system?
From the age of 16, the British education system is remarkable and unique. What makes it so special is the opportunity that students have to focus on subjects which they most enjoy.  In most countries, students must continue studying as many as fifteen subjects until they leave school at the age of 18.  The British system allows students after age 16 to study the subjects they most enjoy.  This means that students can focus on, for example, maths, physics and chemistry, or history, biology and maths, or any other combination of subjects.  There are also subjects which generally are not available before university in many countries.  These include law, business, and psychology, which are all popular subjects with international students who study in the UK.
This means students learn in real depth the subjects that matter most to them rather than having to continue a very broad selection of subjects, many of which they no longer particularly like.
Families are surprised to learn that this does not mean a narrowing of future choices. The British university system is remarkably flexible, and universities are generally more concerned about the grades than the exact subject that you have chosen to study.  For example, if you want to do a degree in law then universities don't mind if you have studied maths and physics at school or whether you have studied history and geography.
There are some exceptions to this: if you wish to study medicine then at school you must take chemistry, biology and probably also physics.  To be an engineer then you will need maths and physics, and maybe chemistry or biology.  But these subjects are the exception and most courses are very flexible.  Schools are very experienced in providing advice about the type of subjects to be taken to school to prepare for the right type of University course.  You will also receive expert advice about this as part of the selection process in the Englander scholarship programme.
The approach to learning in the British system is a very active one. This is very different from the experience that students have in many countries, where school learning is all about listening, copying and repeating, rather than thinking and being involved is discussion and debate. Especially at boarding school, students are expected to be actively engaged in their learning, both in and out of class.
These are high calibre schools and students will find small classes and expert teachers.  At age 16 to 18, class sizes are typically about 10 students.  Students are expected to be involved, questioning and actively learning in the whole process.  If you are studying science subjects, you will find the subjects are approached in a completely practical way.  Science in UK schools is not a dry and theoretical, book and backboard subject, but a practical and engaging subject in which students learn by doing, analysing and thinking, rather than by listening, copying and repeating.
How do boarding schools help with University enrolments?
The schools have staff who are very experienced in supporting students in the university application process. They will have specialist staff that help students in selecting appropriate universities and appropriate courses. This means helping them in making the applications, advising on their personal statements and in completing the application forms.  Staff also help produce a reference which is sent from school to university in support of the student's application.
British universities have a centralised application system, known as UCAS.  Through UCAS, students complete just one application form and this is sent to five universities chosen by the student.  The universities then decide if they wish to offer the student a place.  The whole process is overseen and supported by staff in the schools.
What's a typical day like in a boarding school?
A typical day in a boarding school is a busy and happy one.
Students are woken at about 7 in the morning by staff who will have been on duty overnight.  There is breakfast in the school dining hall before assembly, and then lessons, which typically start at about 8:30 in the morning.  The food in British boarding schools has a very good reputation, so students are well nourished for a busy day!
The typical lesson length is about 40 minutes and there will be about 8 lessons each day. There is typically a break of about 20-minutes in the middle of the morning and an hour for lunch. At lunchtime and after school there will be additional activities and clubs for students to take part in and enjoy. There is usually a very wide range of possibilities, from metalwork to horse riding, and from rugby to ballet. Schools have their own sports grounds and often things like a swimming pool, music practice rooms, and theatres as well.
There are team games, competitions, debating, concerts and plays – all of which students are encouraged to take part in and to broaden their educational experience, develop social skills and discover new interests.

In the evening there is homework, usually known in British boarding schools as prep. The amount of prep depends on the age of the student, but those who are preparing for university might be doing two hours per evening and some additional revision and learning at the weekend.  There is plenty of time for fun as well of course, especially with free time at the weekend where students may visit the local town with friends or go on organised trips that the school arranges.  These trips may be educational, cultural or for entertainment, such as trips to local cities or to local leisure facilities.
Should Albanian parents and students be worried about Brexit?   
"What will be the impact of Brexit?" has been a question asked by everyone in recent months.  For Albanian students and their families, if anything, Brexit might work to their advantage, as there will now be no difference between students coming from outside the EU and those that are in the EU.  The recently-elected Conservative government in the UK has won a large majority and pledged a fair and positive immigration policy.  We have already seen an extension of the post-study work visa arrangements and a more accessible salary level for immigration.  This has been reinforced by an emphasis on welcoming those with good English and good levels of higher education – all of which is very good news for an Albanian student competing for an Englander scholarship.